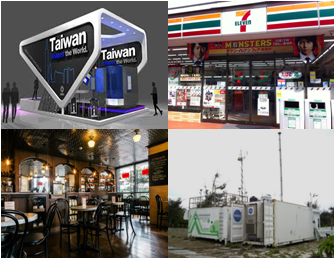 Distributed Business
The distributed business is getting more complex with workers demanding anywhere due to more and more chain store appear. It reaches beyond the restrictions of traditional office. All office and staff are spread geographically over a wide area . All employees located anywhere to access all of the company's resources and software such as applications, data and e-mail at any time. It is without working within the confines of a physical company-operated facility. To meet modern distributed business requirement, technology for networking need also be upgraded, like SDN network. AMIT wireless gateway can fulfill all this demands.
Remote Branch
Popup & Booth
Store & Shop
Café & Restaurant
Unmanned & Self-service
As stores look to drive staff costs down, customer self service applications have gained popularity. They have also been useful reference points for store staff who want to access more information about the clients behaviors. Unmanned store and self service commercial station will be more and more popular. Famous E-commence giant like Amazon, all have unmanned store. More and more new generation smart vending, kiosk, digital signage appear in market. To manage all this store or station, well prepared network & connectivity are critical. AMIT wireless M2M-IoT can do this for you.
POS
ATM
Smart Vending
Kiosk
Digital Signage
Locker
Gas/Elec. Station
Mobile Business
A mobile business is exactly what it sounds like -- a business that allows you to hit the road, traveling to different locations to provide your products and services to your customers. Mobile business owners are able to transport all of the necessary tools and equipment in their vehicles, and provide their services to customers at their homes, other locations or right out of their vehicles . One of the best parts of starting a mobile business is that the startup costs are generally low, providing a quicker path to profitability. To achieve mobile business, on the move connectivity is necessary. 4G-LTE gateway from AMIT can help to reach all requirements.
Dining Car - Cashless payment & business continuity
Mobile Office - Connecting everywhere in working
Mobile ATM - convenient cash withdraw at rural area